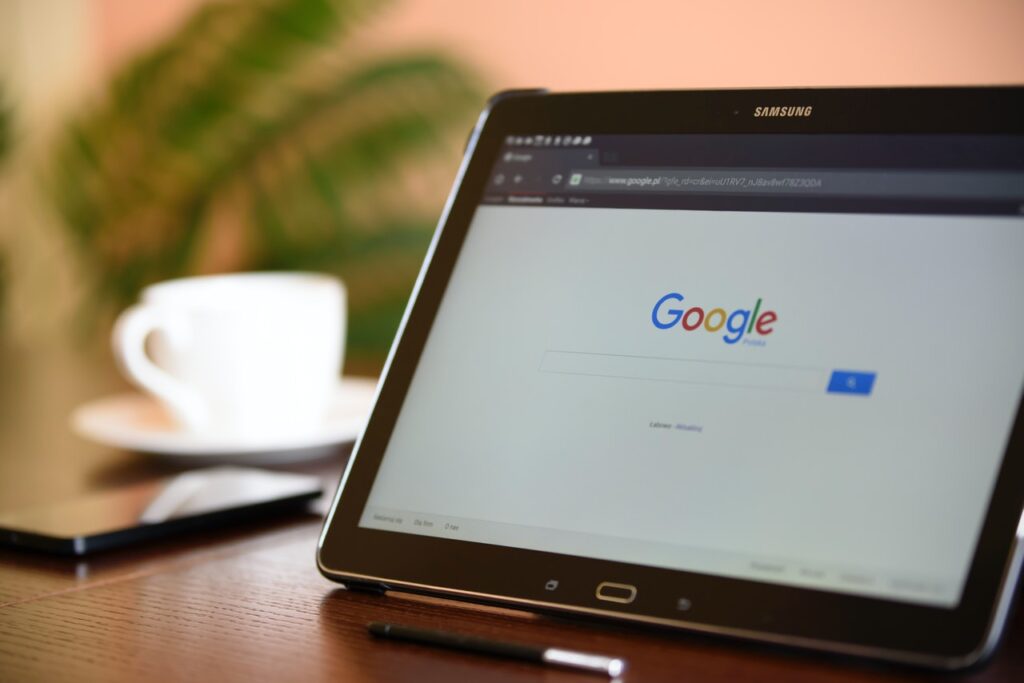 Wordstream, an official Google Premier Partner, compiled their PPC statistics as they do each year in their Google AdWords Industry Benchmarks for 2020. In addition, this year they also released a revised version that examines the impact of COVID-19 on Google Ads across 21 industries.
The two below infographics show the average click through rate (CTR) and the average cost per click (CPC) across a range of 21 industries, such as B2B, real estate, technology, and education.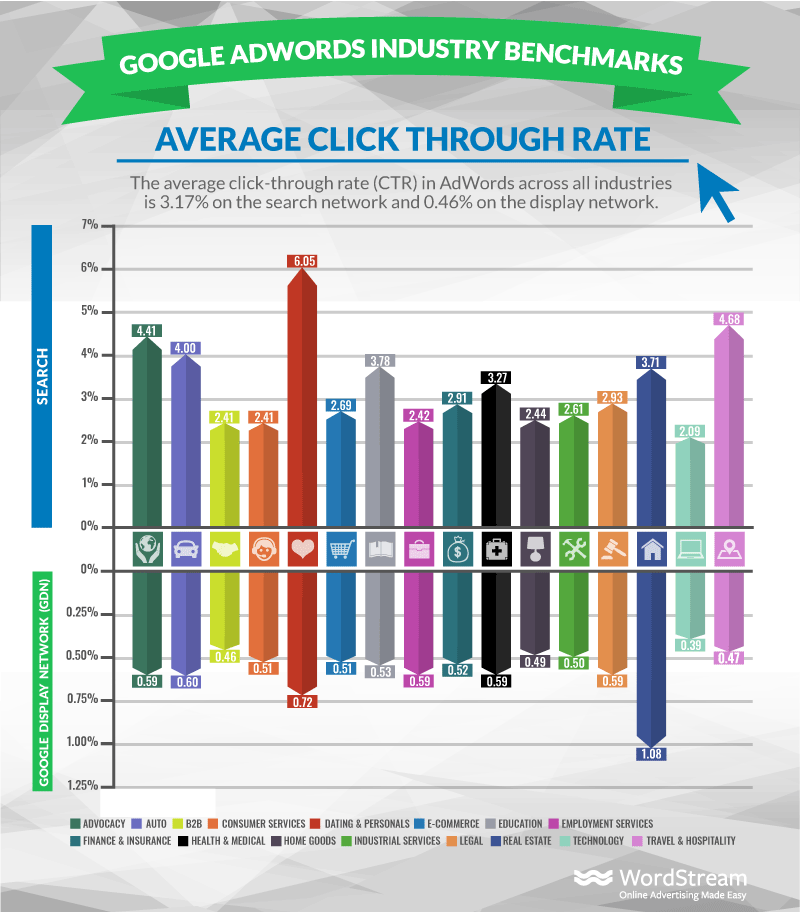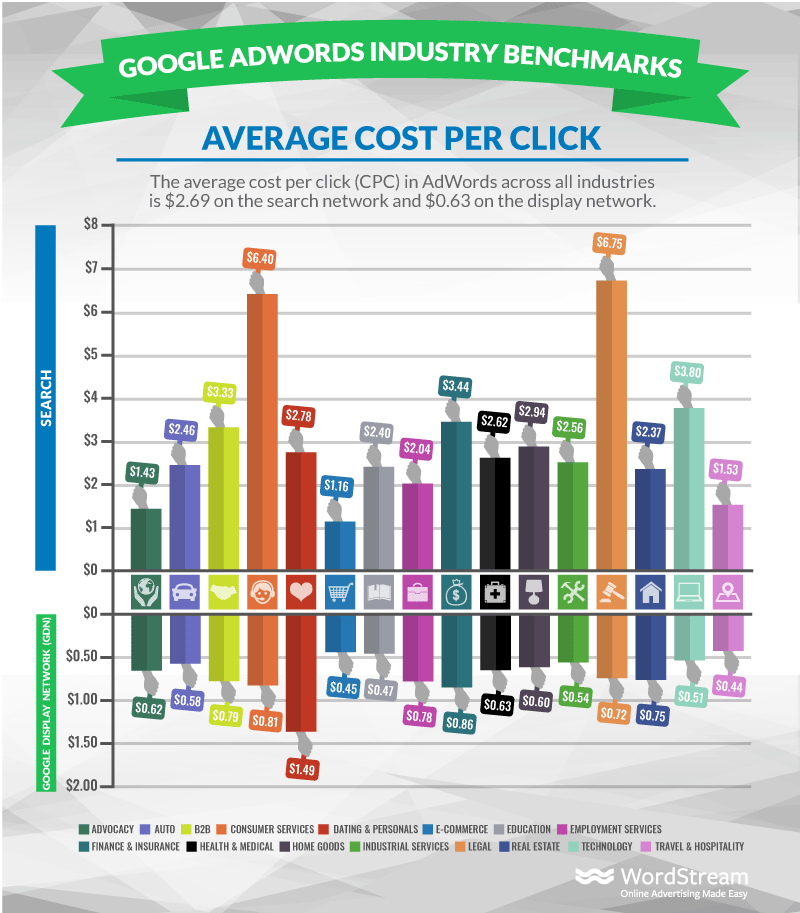 What do these benchmarks mean?
These benchmarks of 2020 can be essential in assisting you in understanding how you are performing compared to the competition. Here are a few key takeaways:
The COVID-19 outbreak is changing the way we live our lives. This is directly tied to how we now conduct business. Our behaviors have changed and so must our ad campaigns. Nimble advertisers can react to these shifting sentiments by adjusting their PPC accounts to reflect customer needs.
Overall, CTRs are up almost universally across Google and Bing. This is due in part because advertisers have been able to adjust their PPC ads and campaigns fast to provide a more relevant ad that speaks to the searchers/customers wants and needs in the pandemic, whereas you cannot as readily shift your SEO listings.
CVR (conversion rate) is declining in many industries, CPC is falling hand in hand at the same time. This could be related to Google's and Bing's smart bidding targeting and adjusting advertisers bids in real time as it sees the performance of their ads quickly shift across segments. This has managed to keep many advertisers' ROIs stable or even growing, despite having a lower budget.



2020 has brought sweeping changes to our personal and professional lives, and has also impacted the world of SEO and SEM. WordStream took a specific look at how trends have changed over the past months to provide the most the current benchmarks on PPC including:
Average click-through rate (CTR) by industry
Average cost per click (CPC) by industry
Average conversion rate (CVR) by industry
Average cost per action (CPA) by industry
Average daily PPC advertising budget by industry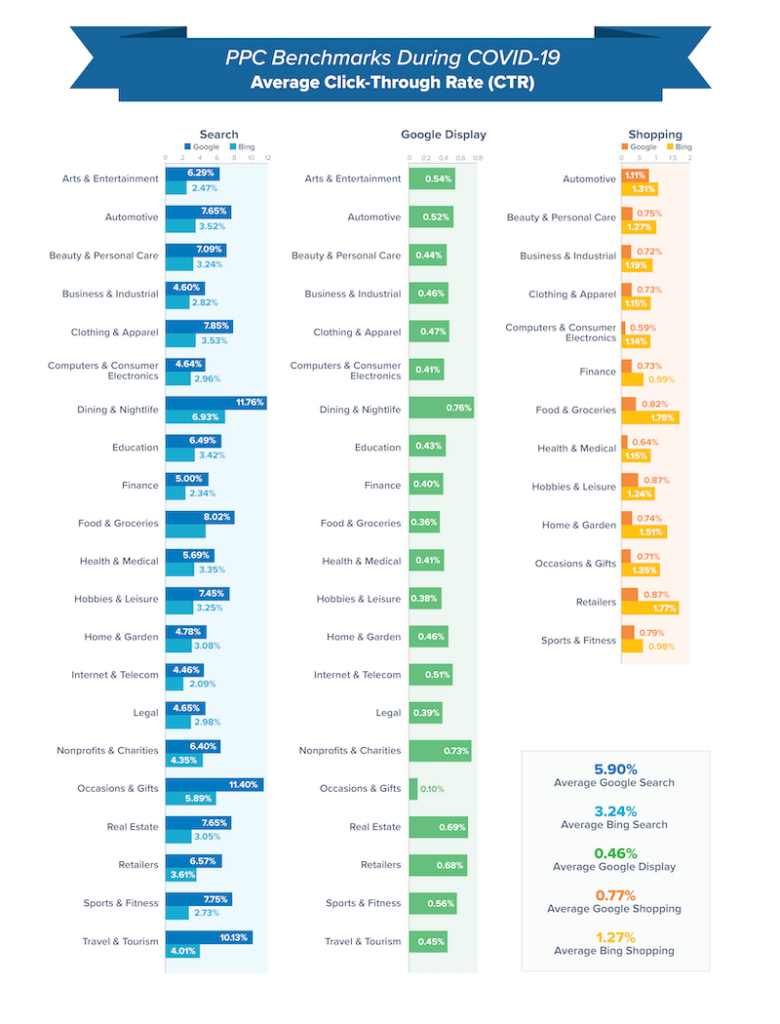 8 Business Industries with higher volume during COVID-19
Here is a list of business sectors that are experiencing increased volume during the pandemic, with advertising being more essential to reach their targeted audience:
Apparel
Beauty and Personal Care
Hobbies and Leisure
Arts and Entertainment
Computers and Electronics
Occasions and Gifts
Health
Real estate

10 Business Sectors with mixed PPC Performance during COVID-19
Some business sectors are responding to new challenges and shifts on their SERP (search engine results pages), and should take this opportunity to analyze what business trends are short-term and what will be long-term.
Retail
Food and Groceries
Dining and Nightlife
Home and Garden
Sports and Fitness
Vehicles
Legal and Government
Business and Industrial
Finance
Jobs and Education

Three Industries Impacted the Hardest during COVID-19
The global pandemic of COVID-19 has hit some industries hard, and their PPC campaigns may not have the impact they used to. These industries have seen their sales decline as much as 30% as a result of COVID-19.
Internet and Telecom
Family and Community
Travel and Tourism

Summary
Overall, with this report covering a wide range of industries, there's a good chance your company/business falls under one or more of the following categories. Start comparing your numbers to your specific industry's number. Depending the comparison, you will either need to redesign your Google AdWords campaign(s) or keep your current strategy the same.


How does your digital marketing compare?
Jenn LeBlanc, CEO & Founder of ThinkResults Marketing, and author of the #1 marketing best seller, Launching for Revenue: How to Launch Your Product, Service or Company for Maximum Growth, works with tech CEOs and CMOs to drive results. Whether it is a 350% increase in web traffic, a 1400% increase in online leads, or a 400% increase in conversion rates, Jenn and the ThinkResults team deliver results.
Check out our free online quiz about the 10 Elements of a Successful Launch, including the content marketing (and digital advertising) element, to see where you fit and what you need to do next. Or simply set up a call and we can talk about your situation and how to make your digital marketing work for you.