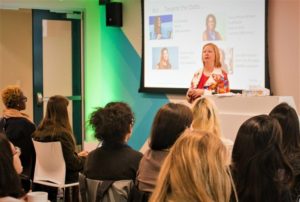 Available Speech and Workshop Topics
Jennifer S. LeBlanc, M.S., is a published author and sought-after, high energy professional speaker. She frequently speaks on a variety of topics including entrepreneurship, launching for revenue, strategic brand development, effective market positioning, social media strategies and funding strategies for female founders. She is the author of two books; the Amazon bestseller Launching for Revenue: How to Launch Your Product, Service or Company for Maximum Growth and the upcoming Changing Tides: Powerful Strategies for Female Founders.
If you are looking for an engaging and inspiring speaker for your next event, please contact us to reserve a spot on Jennifer's speaking calendar.
Upcoming Speaking Engagements
Visit jennifersleblanc.com/events for a full speaking schedule.