Save Time and Money with the ThinkResults Brand DNA Process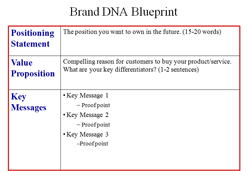 At ThinkResults, we believe that defining the value of a brand, developing a consistent messaging platform, and identifying the position that best fits a brand are imperative to the long-term success of any business venture. With that in mind we created the ThinkResults Marketing Brand DNA Process.
The ThinkResults Marketing Brand DNA Process: The Thinking Behind Your Brand
The ThinkResults Marketing Brand DNA process starts with our half-day Brand DNA Workshop involving your key stakeholders in the development of your brand story. This Workshop efficiently and effectively starts the process of binding the brand development strategy and the connecting story for employees, partners, and customers. Simply put, the Brand DNA Workshop provides your brand with its own uniquely defined identity and personality.
The ThinkResults Marketing Brand DNA Blueprint
Following this Workshop, ThinkResults Marketing will work with your key stakeholders to develop a one-page Brand DNA Blueprint that defines your market position, value proposition (often referred to as an "elevator pitch"), and key messages.
Developed to Save You Time and Money
The Brand DNA Blueprint that flows from the Workshop will save you time and money by streamlining the development of your integrated marketing materials (website, collateral, advertisements, direct mail, and more) because your value proposition and key messages will already be defined.
View an example or call us to book your ThinkResults Brand DNA Workshop today.