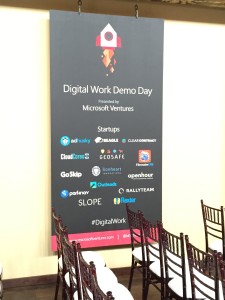 After working with 24 companies as the Go-to-Market Advisor for Microsoft Ventures Seattle—now known as Microsoft Accelerator—it's very gratifying to see the success of many of these companies. Here's a few stats from the group:
54 graduates
75% funded
$867K average funding
The Accelerator is a 4-month intensive program with a different focus each week with an expert mentor available to them each week (design/user experience. product development, funding/funders, reading term sheets, etc.).
Plus there are a ton of Microsoft-supported activities, including opening up the MSFT rolodex for their use, and free Azure technology and Bing ads, for any accepted companies. With no equity taken and no strings attached. As Time Enger, Business Manager for MSFT Ventures, says, "If the companies are successful, then we are successful. If they fail, then we've failed." I just love that total commitment.
The first cohort graduated in December 2014 to a full house on Demo Day in downtown Seattle. It was fantastic to see them launched. This cohort was focused on "digital life" – all new technologies to make our lives easier and better.
In the Spring of 2015, I worked with a whole new set of companies as part of Cohort #2 of the Seattle Accelerator. This cohort was focused on "digital work" so everything we need to make work smarter and better.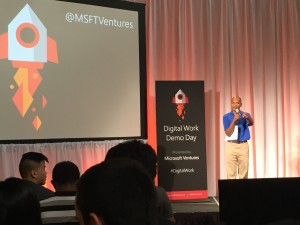 I met with each team beforehand to get to know their unique challenges and learn about what they were doing in more detail. At this stage of the process, some have websites and some don't so talking with the founding team is key.
Then I went up to Seattle for a week and walked the teams through the ThinkResults Launch Readiness Assessment, which is a set of 10 critical launch elements. By the end of this, the teams have a clear idea of where they need to focus their time, money and energy resources to create an optimally successful launch.
We also worked together on developing killer positioning (Element #6 of the 10 Launch Elements and an absolutely foundational element, aside from developing a great product) with the ThinkResults Brand DNA positioning workshop.
Following the two workshops, we spent the rest of the week together doing 1:1 marketing strategy coaching sessions with each team, focusing on whichever element(s) were most vexing to them. If it was standing between them and a successful launch we blasted through it in 1-2 hour sessions.
We worked on everything from handling sales objections with jaded healthcare executives to crafting compelling positioning to cross-border cultural sensitivities to thinking through an acquisition strategy for one startup who already had four suitors.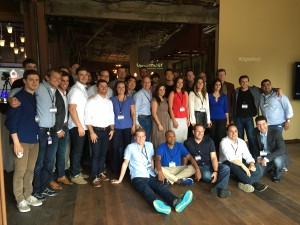 My work culminated with them on Demo Day in July 2015, which is actually two days (one an internal Demo Day for MSFT employees and then public Demo Day in a room filled with investors, VCs, press and the public). Demo Day was live-streamed and recorded by TechCrunch.
It was an intense week and I'm watching them all closely as they spread their wings and fly. You can check them out on the live stream link above or on the Microsoft Ventures Seattle website. And if you're a startup, the Seattle Accelerator is now accepting applications … I'll see you in Cohort #3!
— Jenn