Who could resist an event title like that? The evening's Harvard Business School Innovation and Strategy Roundtable (Sept.18, 2014) conversation did not disappoint.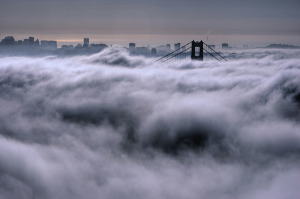 Steve White, program director for the Strategic Alliances Leadership Council (SALC), which is part of IDC's Software Business Strategies Group was the entertaining and respectful moderator, Chris Yeh, SVP, Product and Platform at Box was a thoughtful panelist representing the up and coming cloud storage and content management platform and Jay Chitnis, Sr. Director Solutions Marketing at EMC represented the established cloud storage company perspective.
Steve framed the evening conversation by describing the IDC 3rd Platform, which consists of Social, Mobile, Analytics, Cloud and Storage (lovingly nicknamed SMACS). The 1st Platform was the mainframe and the 2nd Platform was the client-server era.
Steve also reviewed recent survey data from IDC showing that there is a huge opportunity in the storage market. Yet cost is a major driver of the shifts happening within the industry with a lot of price wars going on, especially from the big players who can afford to give storage away for next to nothing (AWS, Google, Microsoft) making it very hard on the smaller companies on the space.
Chris said one of his biggest challenges is balancing the needs of the enterprise with the simplicity of a consumer app interface. The average age at Box is 29, but their biggest customer is GE. "I need a team where half of them act like they work at Twitter and half act like they work at Oracle," he joked. Customers want the simplicity of a consumer interface yet need higher level functionality (security, better version control, etc.) of an enterprise product.
Cloud storage seems like the dot coms of the 90s, according to Chris. It's a losing game and a race to the bottom in terms of pricing.
At Box, they are instead consciously moving into working with more sophisticated workflows, figuring out how companies are using their content and managing the lifecycle of their documents. For example, how is content being shared between customers and finance? Or between field agents taking pictures and sending those into corporate to document a customer accident and claim? How do all those documents and files get managed and eventually retired? Adding a vertical spin on this process has now become critical.
Chris emphasized the importance of changing the conversation with the CIO to be more focused on document workflow, versus straight cloud storage. His best customers are trying to move away for Sharepoint, which can be very difficult to use.
Box came from the freemium consumer model so Chris emphasized that they have to be as good as the consumer options or business users will just revert to their Dropbox or whatever other quick tools they have. Both Chris and Jay stressed the importance of user interface and ease of use in making their companies successful. Both indicated they have spent considerable sums on their UI over the last couple of years.
On the revenue side, Chris reported that Box is seeing more of a hybrid model in cloud storage sharing with revenue happening from the private cloud side and growth occurring on the public cloud side.
An interesting fact from the evening was that sometimes the metadata sits in the public cloud. Probably something that would be important to ask about when considering any kind of enterprise cloud storage.
Overall, a very interesting evening and the discussion by both of the panelists of the need to reposition themselves from the "race to the bottom" cloud storage vendor to the document workflow and collaboration solutions was especially interesting to me. Moving the conversation from the individual user to the C-level in terms of the overall efficiency of the organization will be critical to ensure these companies remain viable in a very competitive environment. Once again, the need to reinvent and reposition the business becomes a priority, even when the revenue is flowing.
Complimentary Consultation
Jenn LeBlanc, CEO & Founder of ThinkResults Marketing, works with tech CEOs and CMOs to drive results. Whether it is a 350% increase in web traffic, a 1400% increase in online leads, or a 400% increase in conversion rates, Jenn delivers results.
Call for a free 30-minute consultation about your marketing project with Jenn. Email us to set up your complimentary consultation and start driving your results today.