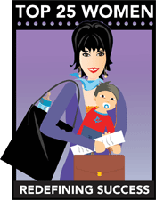 In 2007, Jennifer LeBlanc was chosen as one of the The Top 25 Women Redefining Success™ by Flexperience, a Bay Area talent-on-demand consulting firm. The winners of this award were chosen for their accomplishments "creating a new era in making flexible career strategies work for themselves and for others."
The Top 25 Women included corporate leaders, entrepreneurs and professionals at every level who were admired and respected by their peers, colleagues and families for how they have designed their life to include both a career and a family.
"This award has deep personal significance for me as I have always tried to create an atmosphere of flexibility at ThinkResults Marketing," says Jennifer LeBlanc, CEO and Founder of ThinkResults Marketing. "I believe we can do our very best work for clients and meet their every need when we are very focused on them because our own very real needs have already been met."
Jennifer accepted the award in front of a sold-out crowd at Flexperience's New Formulas For Success in San Francisco on October 18, 2007. The event was led by keynote Leslie Morgan Steiner from the Washington Post.