Design Director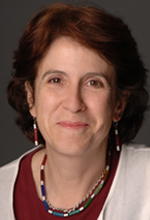 Gabriela Martinez has been a graphic designer and design director in Silicon Valley for over 20 years. She has a strong background in technical publications and hi-tech. As Design Director for ThinkResults, Gabriela works with the team and client in developing visual identity and translating ideas and messages into images.
As a design director, Gabriela enjoys collaboration and exchange of ideas, both with her team and her clients. She particularly enjoys projects with a larger scope where the goal is to carry brand and design concepts throughout different media.
With a background in fine arts, math, and music she brings a balance of right- and left-brain thinking that allows her to enjoy both the creative and analytical aspects of each project. Gabriela knows that the first impact of any new marketing drive is visual. She also understands the business context of graphic design, where design is an applied art that supports and enhances the marketing message.
Gabriela holds a B.A. from Notre Dame de Namur University. She speaks four languages; English, Spanish, French, and Italian. Gabriela has lived in several countries, traveled extensively, and worked with clients in Europe and Asia. These experiences have helped develop cultural awareness and sensitivity.